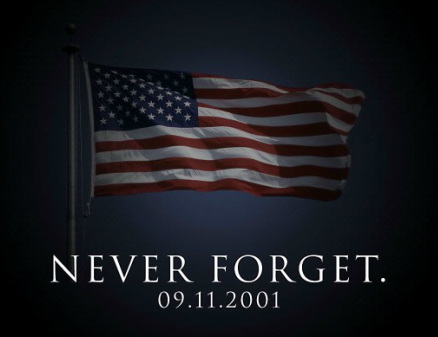 Greetings my fellow Americans,
Today, September 11, we remember the tragic and cowardly events of 9/11/2001. Thirteen years later we still suffer the consequences perpetrated upon us from those terrorist. And yet, while our freedoms have been mildly constricted, let us not forget the freedoms that still remain:
The freedom to get up every day and pursue whatever we want to do.
The freedom to use our mind and to speak those thoughts freely.
The freedom to pray to God and thank him for all of our blessings without repercussions.
The freedom to move about openly.
The freedom to purchase a home and enjoy its privacy while raising a family.
There is a new terror threat called ISIS that is causing the world trouble. We shall defeat them because at the end of the day we are AMERICANS. Americans who live in
THE LAND OF THE FREE AND THE HOME OF THE BRAVE
. I ask that you quietly remember those who perished on 9/11/2001. They didn't ask for that but we can honor them by moving forward in the name of life and liberty!
-Charles Guy Stidham III